Blog Archives
By LINH DINH
SINCE September 11, 2001, Bin Laden had been mostly an absence. His few video or audio tapes were highly suspect, and speculations about his death had often surfaced. On July 11, 2002, Amir Taheri wrote in the New York Times, "Osama bin Laden is dead. The news first came from sources in Afghanistan and Pakistan almost six months ago: the fugitive died in December and was buried in the mountains of southeast Afghanistan […] With an ego the size of Mount Everest, Osama bin Laden would not have, could not have, remained silent for so long if he were still alive. He always liked to take credit even for things he had nothing to do with. Would he remain silent for nine months and not trumpet his own survival?"
But save for one doubtful video, Bin Laden never took credit for 9/11. In fact, he repeatedly denied any responsibility for those mass murders. On September 28, 2001, he was interviewed by the Karachi Ummat, an Urdu language newspaper. The US Foreign Broadcast Information Service, a component of the CIA, translated:
[…] I have already said that I am not involved in the 11 September attacks in the United States. As a Muslim, I try my best to avoid telling a lie. Neither I had any knowledge of these attacks nor I consider the killing of innocent women, children, and other humans as an appreciable act. Islam strictly forbids causing harm to innocent women, children, and other people. Such a practice is forbidden ever in the course of a battle. It is the United States, which is perpetrating every maltreatment on women, children, and common people of other faiths, particularly the followers of Islam. All that is going on in Palestine for the last 11 months is sufficient to call the wrath of God upon the United States and Israel. There is also a warning for those Muslim countries, which witnessed all these as a silent spectator. What had earlier been done to the innocent people of Iraq, Chechnya, and Bosnia? Only one conclusion could be derived from the indifference of the United States and the West to these acts of terror and the patronage of the tyrants by these powers that America is an anti-Islamic power and it is patronizing the anti-Islamic forces. Its friendship with the Muslim countries is just a show, rather deceit. By enticing or intimidating these countries, the United States is forcing them to play a role of its choice. Put a glance all around and you will see that the slaves of the United States are either rulers or enemies [of Muslims]. The US has no friends, nor it wants to keep one because the prerequisite of friendship is to come to the level of the friend or consider him at par with you. America does not want to see anyone equal to it. It expects slavery from others. Therefore, other countries are either its slaves or subordinates […] Whoever committed the act of 11 September are not the friends of the American people. I have already said that we are against the American system, not against its people, whereas in these attacks, the common American people have been killed […] The United States should try to trace the perpetrators of these attacks within itself; the people who are a part of the US system, but are dissenting against it. Or those who are working for some other system; persons who want to make the present century as a century of conflict between Islam and Christianity so that their own civilization, nation, country, or ideology could survive […] Then there are intelligence agencies in the US, which require billions of dollars worth of funds from the Congress and the government every year. This [funding issue] was not a big problem till the existence of the former Soviet Union but after that the budget of these agencies has been in danger. They needed an enemy. So, they first started propaganda against Usama and Taliban and then this incident happened. You see, the Bush administration approved a budget of $40 billion. Where will this huge amount go? It will be provided to the same agencies, which need huge funds and want to exert their importance. Now they will spend the money for their expansion and for increasing their importance. I will give you an example. Drug smugglers from all over the world are in contact with the US secret agencies. These agencies do not want to eradicate narcotics cultivation and trafficking because their importance will be diminished. The people in the US Drug Enforcement Department are encouraging drug trade so that they could show performance and get millions of dollars worth of budget. General Noriega was made a drug baron by the CIA and, in need, he was made a scapegoat. In the same way, whether it is President Bush or any other US President, they cannot bring Israel to justice for its human rights abuses or to hold it accountable for such crimes. What is this? Is it not that there exists a government within the government in the United Sates? That secret government must be asked as to who made the attacks […]
Judge for yourself. Does this sound like the raving of some mad man with an ego the size of Mount Everest? He sounds quite composed, actually, and far more lucid, perceptive and concise than all American politicians and most intellectuals. In any case, this interview was the last substantial utterance from Bin Laden. After this, he more or less disappeared.
THE REMAINDER OF THIS ARTICLE CAN BE FOUND AT THE MUSLIM.CA
---
This article is taken from another source. Views expressed in this article are those of the author and may or may not be the views of From The Pulpit and DiscoMaulvi. To submit content for From The Pulpit, please email FromThePulpit [at] MuhammadAly [dot] Com.
Some thoughts on the death of Osama Bin Laden, written as part of a collection of tweets and thoughts by writers and Shayooks at MuslimMatters
---
As a Pakistani, the news of Osama Bin Laden's death brought a mixture of emotions:
Relief – Well that's one less "problem" to worry about.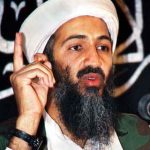 Skepticism – Yeah right, he was in Abbottabad! Just how in the whole world was he a stone's throw from the Military training academy in Kakul and no one knew about it?
Dismay – The claim that he was in Pakistan all these years was true!
Fear – May Allah protect us (the citizens of Pakistan) from the backlash that is surely going to stem from this.
Cynicism – So what if he's dead? There are many more such monsters out there that will continue to haunt us.
Anger – Why is the Pakistani government / military not issuing any statements about an event in which they obviously participated.
Mistrust – Was Osama Bin Laden really alive all these years? Or was he part of some grand conspiracy? Why did they do a sea burial without showing the body to anyone?
Sadness – A misguided individual died without being able to see the light.
After trying, unsuccessfully, to get my son out of bed to get ready for school, I sat on the bed and checked my email.
The subject "Turn on CNN or whatever news station you listen to" catches my eye!
Seems like the US has Bin Laden's body. Obama is going to give a speech in a few mins!
A quick channel flip on the TV (sorry Diego, Bin Laden was more important right then). Lo and behold we have the CNN people claiming OBL died last week in a "mansion near Islamabad". So the next move is to see what my tweeps on Twitter say. And then this post on Osama and whether he's alive (reproduced below) I wrote back in June 2009 pops up in my head!
Seems like OBL has finally run out of lives. Killed in an operation carried by US Forces in Abbottabad, in an operation inadvertently tweeted by fellow Pakistani Tweeter Sohaib Athar.  Well in a way good riddance really, however, the question that leaves to be asked is:
With killing of #Osama #OBL, the search for new America's Most Wanted Super-Villian has officially begun. Submit ur pick to whitehouse.gov!—
Muslim Matters (@MuslimMatters) May 02, 2011
Oh and for the record, to all the media people saying he was killed "near Islamabad", Abbottabad is not near Islamabad!
DiscoMaulvi
---
Osama Bin Laden, the 25th son of Mohammed Bin Laden, a Saudi billionaire of Yemeni origins, carries a USD 25 Million price tag on his head. Among his alleged claim to fame are being Number One on the FBI Top 10 Most Wanted list, wanted for the bombing of US Embassies in Tanzania and Kenya (1998), creating a gaping hole in the skyline of New York City (what is commonly referred to as 9/11), and finding a way to speak from the grave.
Around the end of 2001, OBL was thought to be dead by several governments around the world, including that of George W. Bush. His video released in December 2001 prompted the following comments from CNN Terrorism analyst Peter Bergen:
"This is a man who was clearly not well. I mean, as you see from these pictures here, he's really, by December he's looking pretty terrible. But by December, of course, that tape that was aired then, he's barely moving the left side of his body. So he's clearly got diabetes. He has low blood pressure. He's got a wound in his foot. He's apparently got dialysis … for kidney problems.

I mean, this is a man who has a number of health problems, apart from the fact that anybody running around the Afghan mountains is not going to be in great shape."
A wounded, almost dying OBL in 2001 revived miraculously and was in the best of health in 2004 (must be that great hospital in Tora Bora or a real life Benjamin Button). Following this, over the years, several people have voiced their belief that OBL was no longer amongst us. Hamid Karzai, Benazir Bhutto, Pervez Musharraf, FBI, and Israeli Intelligence all have publicly stated that OBL is dead.
2001 and 2004 – Miraculous cure?
Based on the intelligence and the statements of the above mentioned, it can only be that OBL was conveniently replaced by an actor. Since then he (and his boy Ayman Al-Zawahiri) have a knack of appearing with a new production conveniently coinciding with major events on the US Political calendar. Just last week, a group of friends were discussing how OBL, Mullah Omar, and Zawahiri were missing in action. And this week to coincide with Obama's maiden trip to the Middle East and Richard Holbrooke's visit to Pakistan, we see OBL speak up from the dead. How convenient.
OBL & Zawahiri (in 2001)
What lends credence to the beliefs of many, of OBL now inhabiting a Tora Bora on the other side of the mortality divide, is that the last video of OBL was seen in October 2004 (OBL's messages) and all subsequent messages from OBL have been audio tapes or videos with a voice over. Thus, it is theorized that the man we now believe to be OBL is in fact an actor. More on this can be found here.
But whether this OBL is the real man, or whether he is a better and more improved version (OBL 2.0 or Osama Bin Elvis as Angelo M. Codevilla refers to him), the question that one should ask is this. Why is it that a man whose head carries a tag of more than USD 25 million has not been found yet? Surely someone out there would be so tempted by that figure. And why can't the US (or any other country's intelligence agencies) find OBL? In an era where you can see someone on the street of New York using Google Earth from Antarctica, is it really that hard to find this guy? Or is it just that everyone's looking in the wrong place? Instead of the mountains of Afghanistan (or even Pakistan as some speculation goes), maybe the US Intelligentsia should be looking for OBL 2.0 in a desert 83 miles from Las Vegas.
Some Suggested Links
Is Obama Really Osama?
Where in the World is Osama Bin Laden?
Where in the World is Osama Bin Laden? – Documentary
OBL 2.0 – A Terrorist Resurrected
OBL Dead – President Zardari